The much-anticipated, annual LA tradition of Brazilian Summer Festival (now in its 24th year) erupts on Sunday, September 16, 2018 at the UNION CLUB, located right on the border of Koreatown in the upcoming neighbourhood of Arlington Heights. Presented by Brazilian Nites Productions in collaboration with Baile do Victinho, the 2018 edition features the rhythms of Rio de Janeiro through the Samba and Batucada (percussion jam) and the exuberant Brazilian choreographies of the LA Samba Dancers troupe. Headlining is Latin Grammy Winner, Diogo Nogueira directly from Rio de Janeiro, Brazil as part of his 7-city US Tour.
With over a million copies sold, Diogo Nogueira is currently one of the most popular Samba singers in Brazil. Son of the renown composer and singer João Nogueira, before Diogo was even one year old, he was already tagging along with his parents to samba gatherings, and started playing samba and choro instruments from an early age. Along 10 years of career, Diogo has achieved two times the victory in providing the theme of the samba school of his heart, Portela, where he was part of the sector comprised of composers, and won two Latin Grammys for Best Portuguese Language Song for "Bossa Negra" (2015) and Best Samba/Pagode Album for "Tô Fazendo a Minha Parte" (2010). He has recently launched his first album of all self-authored songs, Munduê, which he will perform for the first time in California, recreating the joy of Summer in Rio de Janeiro.
"Those who are in love with the entrancing music of Brazil will be thankful for the gifted talent of Diogo Nogueira, as good as his dad, he has samba in his blood…" – Zeca Pagodinho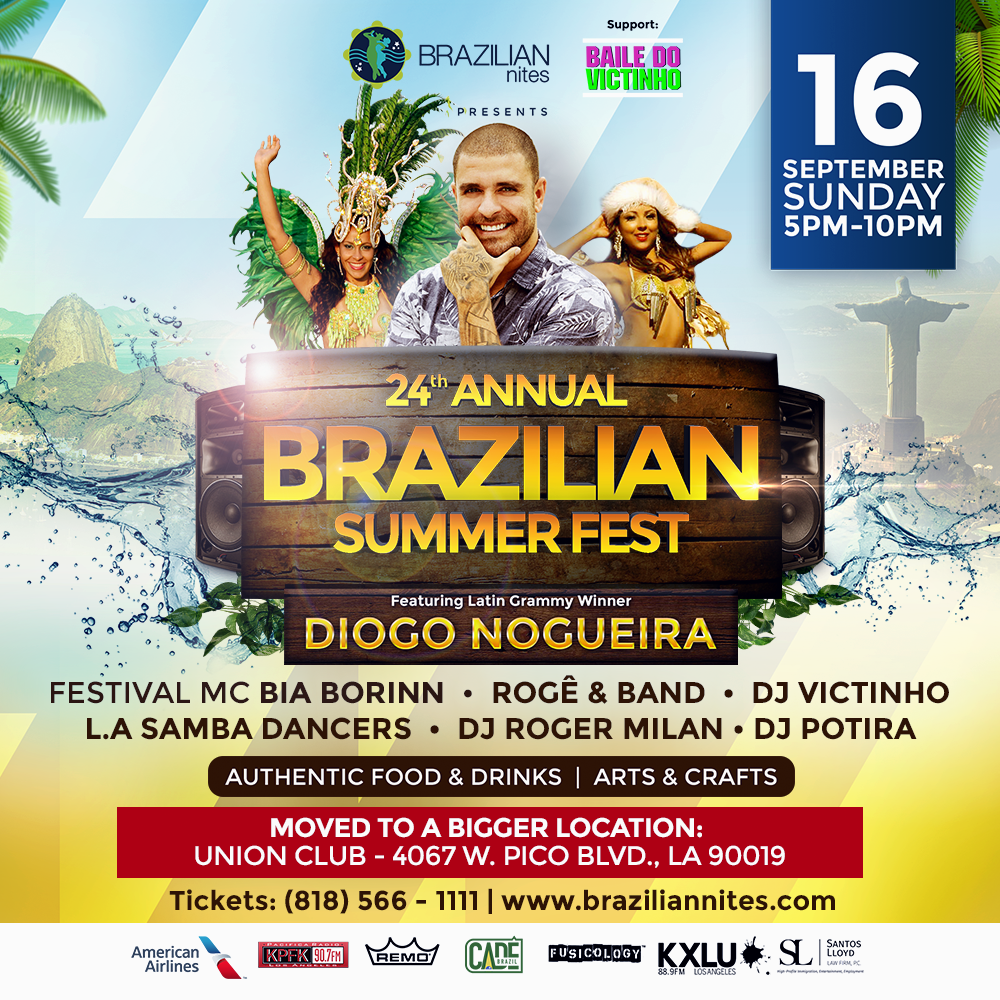 Also on the bill is Rogê, who creates a laid back kind of samba that emerges as the soundtrack of modern and flourishing Rio. He composed the themes for the 2016 Olympics Games in Rio and the 2014 World Cup's Mascot. A frequent partner, Seu Jorge (well known for his 'Life Aquatic' project) recorded seven songs composed by Rogê in his most recently solo album, Músicas Para Churrasco (2012). Rogê's new album, Nomade, was recently out and is a mix of his Brazilian rhythms  with music from other parts of the world, and was produced by Los Angeles based producer, Mario Caldato Jr.
Heating up the dancefloor will be the LA Samba Dancers directed and choreographed by Joany Macias, hypnotizing with their sensual and elaborate samba steps in feather sequin micro costumes.
DJ Victinho Magnólia, known for his fun Baile do Victinho in San Diego, will share his energetic mix of the most popular music genres in Brazil right now. DJ Potira comes featuring everything from hip-hop beats and samba to electro and rock, while DJ Roger Milan brings tracks that lit the dancefloor with a unique blend of house and Latino rhythms.
The festival also hosts vendors of authentic Brazilian food, including Feijoada (the most authentic Brazilian dish) and Caipirinhas (Brazil's national spirit), as well as Arts & Crafts recreating the joy of Brazil's Summer in California.
Sponsors: American Airlines, KPFK, REMO and Fusicology.
SUNDAY, SEPTEMBER 16th, 2018 from 5pm to 10pm
Union Club – 4067 Pico Blvd, Los Angeles, CA 90019
Phone: (818) 566-1111
Tickets Here: $45 (General Admission) & Children 12 and under $15
Websites & Youtubes:
Brazilian Nites – www.BrazilianNites.com
Diogo Nogueira – www.DiogoNogueira.com.br
Rogê – www.youtube.com/user/rogebrasil1
DJ Victinho Magnólia – www.youtube.com/user/victinhomagnolia
DJ Potira – www.djpotira.com
DJ Roger Milan – www.facebook.com/djrogermilan/
LA Samba Dancers – www.lasambaentertainers.com/