Inside the glass-paneled windows of Santos Lloyd Law Firm's office in Irvine (CA), it looks like an art gallery featuring colorful, large-scale paintings hang against an off-white wall. Since last June, when the Brazilian Cultural Center was inaugurated on the site, arts and immigration law came together with the purpose to connect foreign artists with the community of Orange County. "My idea is to help Brazilian artists showcase their artwork by providing a professional environment in Irvine, working as a bridge between Los Angeles and San Diego", says attorney Flávia Santos Lloyd, who has been dedicated to immigration, entertainment, and employment law for over 17 years.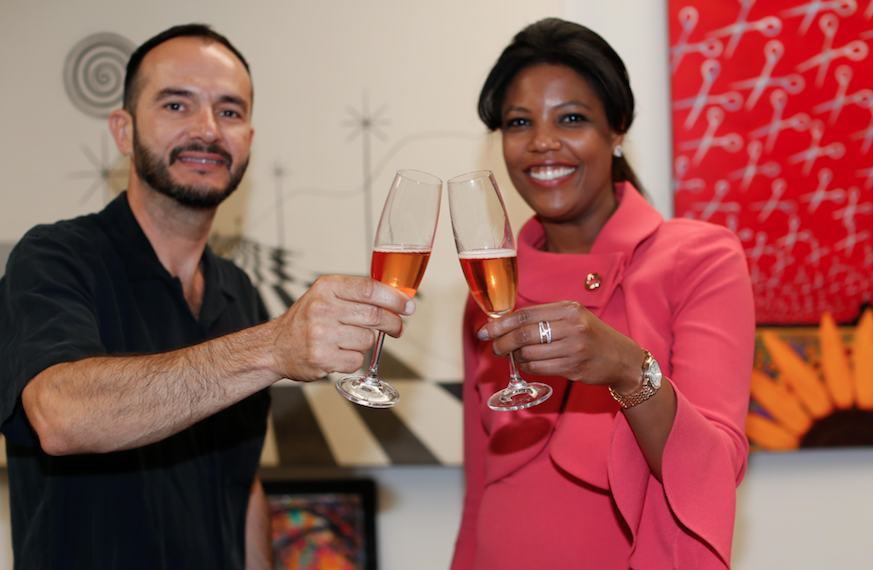 DCastro, a prominent Brazilian painter current based in Venice, is the first artist to have a solo show in the office, until August. His unique style explores topics such as nature, spirituality, futurism, and different landscapes. DCastro paintings have been featured on the New York Times and appeared on TV shows such as Californication and House of Lies. DCastro is now also the art curator of the Brazilian Cultural Center in OC and is accepting submissions to put other artworks on display.
The art gallery is open for the public on select weekends to be announced on the office's social media. Santos Lloyd Law Firm also hosts business events such as the OC Brazil Business Club, which happens once a month as a gathering for networking and art shows. "These events are not for Brazilians only, the main goal is connecting locals with the most talented Brazilian professionals, living or visiting the U.S., enriching both cultures and creating a great environment for business", says Santos Lloyd.
Santos Lloyd Law Firm, PC
1150 Main Street Suite E, Irvine, CA 92614
www.santoslloydlaw.com
Projects submissions: [email protected]
Follow on Facebook and Instagram