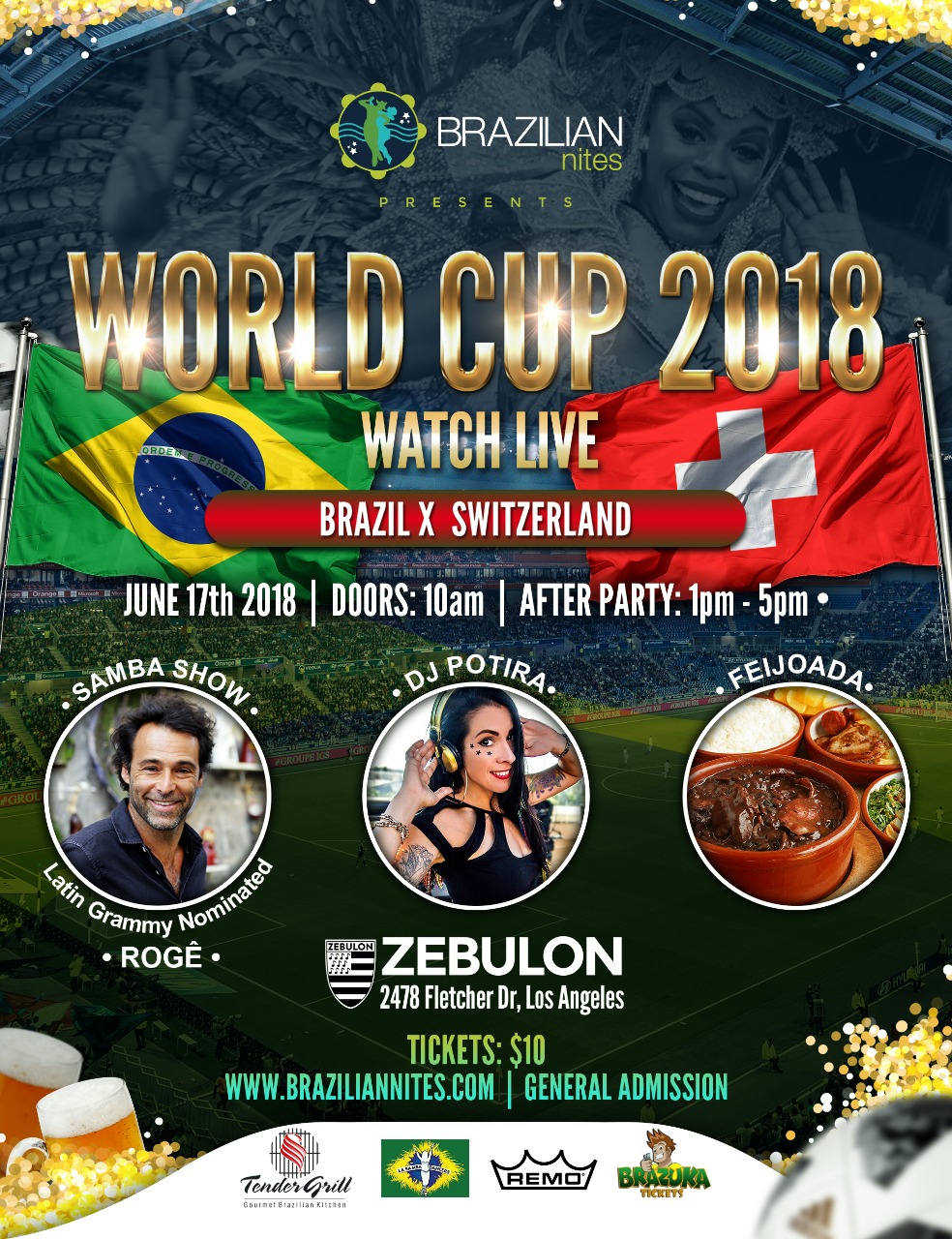 The 2018 FIFA World Cup is right around the corner. From 14 June to 15 July, the greatest soccer players on the planet will take center stage in Russia. Brazil is the runaway favorite of the Group E over Switzerland, Costa Rica, and Serbia. Brazilian Nites, the largest Brazilian production company in the West Coast, takes the occasion to celebrate the Brazilian culture by organizing a gathering on June 17th at Zebulon, with live streaming of Brazil x Switzerland soccer game and after party featuring Samba show with Latin Grammy nominated, Rogê.
Rogê creates a laid back kind of samba that emerges as the soundtrack of modern and flourishing Rio de Janeiro. He composed the themes for the 2016 Olympics Games in Rio and the 2014 World Cup's Mascot. A frequent partner, Seu Jorge (well known for his 'Life Aquatic' project) recorded seven songs composed by Roge in his most recently solo album, Músicas Para Churrasco (2012). Rogê's new album, Nomade, was recently out and is a mix of his Brazilian rhythms  with music from other parts of the world, and was produced by Los Angeles based producer, Mario Caldato Jr.
Attractions also include performances of stunning "passistas" of LA Samba Dancers, and DJ Potira, with an eclectic and energetic set of Brazilian rhythm.
Brazil's national dish, Feijoada, made with smoked meat (beef and ribs), black beans, rice, collard greens, and more, is part of the menu of Tender Grill Gourmet Brazilian Kitchen, a guest food truck parked on Zebulon's patio on the occasion.
Zebulon, bar and noted experimental music venue, will also prepare Caipirinhas, Brazil's most popular cocktail made of cachaça, lemon and sugar, to cheer the audience up.
This event is sponsored by REMO
World Cup 2018 – Brazil x  Switzerland
Sunday, June 17th
Doors open 10am | After Party 1pm – 5pm
General Admission
Zebulon
2478 Fletcher Dr., Los Angeles, CA 90039